Entry Fees
Thru December 31: $44
January 1 – February 28: $50
March 1 – March 23: $56
Onsite: $60
Bib Pick-Up
Online registration is now closed. Onsite registration is available Saturday and Sunday.
Registered participants will receive their race bib with timing chip and athlete shirt at registration. Onsite registration IS available both days.
Saturday, March 25: 11:00 AM – 1:00 PM @ Ragged Island Brewing
Sunday, March 26: 7:30 – 8:50 AM @ Second Beach, Middletown
All participants must show a photo ID at pick-up. Participants may pick-up for friends and family, but must provide a copy of the ID or a photo of the ID on their phone for verification.
What Do I Get?
The goal of the race is supporting our friends at the Norman Bird Sanctuary. All participants will receive a race shirt, race bib, timing chip, and finisher's medal.
Awards will be given to the top 3 male and female finishers.
Gray Matter Marketing is a small business dedicated to promoting a healthy lifestyle with charitably focused events that highlight the communities we are fortunate to call hosts cities.
RACE CREDITS
We are not able to offer refunds. However we do offer any registered runners the opportunity to request a race credit for your full value. Once issued, these Eventbrite Credits appear as a balance of your Eventbrite account. The credit balance can then be applied to the purchase price of a new ticket to any event on our calendar within two years of the day we issue the credit. Race credits may be requested up to 30 days before the event in which you are registered. Race credits will not be granted if a request is made less than 30 days prior to the event.
FREQUENTLY ASKED QUESTIONS:
Can I get a refund?
We do not offer refunds. However we do offer Eventbrite Credits for other events on our calendar.
Can I defer my registration?
No, we do not roll over your registration automatically to the next year's event. However the credit that we issue can be used towards the purchase of that same event whenever registration re-opens for the following year's event.
Can I transfer my registration to another person?
No, we do not offer transfers. However, when you request and receive a race credit, you can use that credit to purchase a new ticket for another participant if you choose to do so.
How long is my Eventbrite Credit good for?
The balance of your registration is good for up to two years from the date it was issued, at which point it then expires.
When can I request an Eventbrite Credit?
All credit requests must be submitted to [email protected] no later than 30 days prior to the event.
Extreme Weather Policy
Our events are held rain or shine. However, there is always the potential for extreme or severe weather conditions. Race organizers will do as much as we can to ensure the experience is as safe as possible. In the event of severe weather, the race may be delayed as race officials consult public safety officers. If there is more than a short delay, if conditions persist, or the forecast calls for extreme weather, race officials reserve the right to alter or cancel the race. We do not schedule "rain dates". Any decision to cancel an event is done as an absolute last resort and is made collectively with local risk management, police, fire & rescue, and medical personnel as appropriate. In such situations, there will be NO REFUNDS as registrants accept any such risk of their entry free when signing up.
Please check the website, our Facebook page, and your email before the race for any changes or cancellations.
Additional Questions?
If you have any additional questions, please review our website or do not hesitate to contact us.
Military Discount
The Southcoast Health Aquidneck 10k extends its thanks to those serving our country. We invite active, reserve members and veterans of all military branches to email us at [email protected] to receive a discounted registration.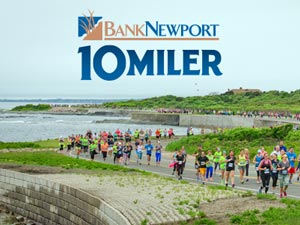 BankNewport 10 Miler
Join us on June 4th for this oceanside 10-mile road race features the best of Newport and has a unique finish inside Fort Adams. More Info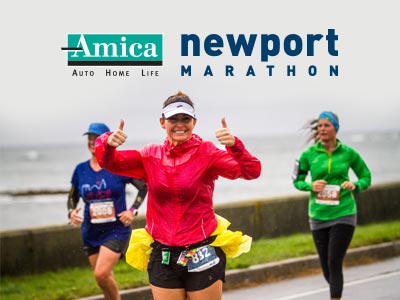 Amica Newport Marathon
This October 8th, 2023 Marathon and Half-Marathon feature all of the beauty and grandeur the City By The Sea has to offer. More Info